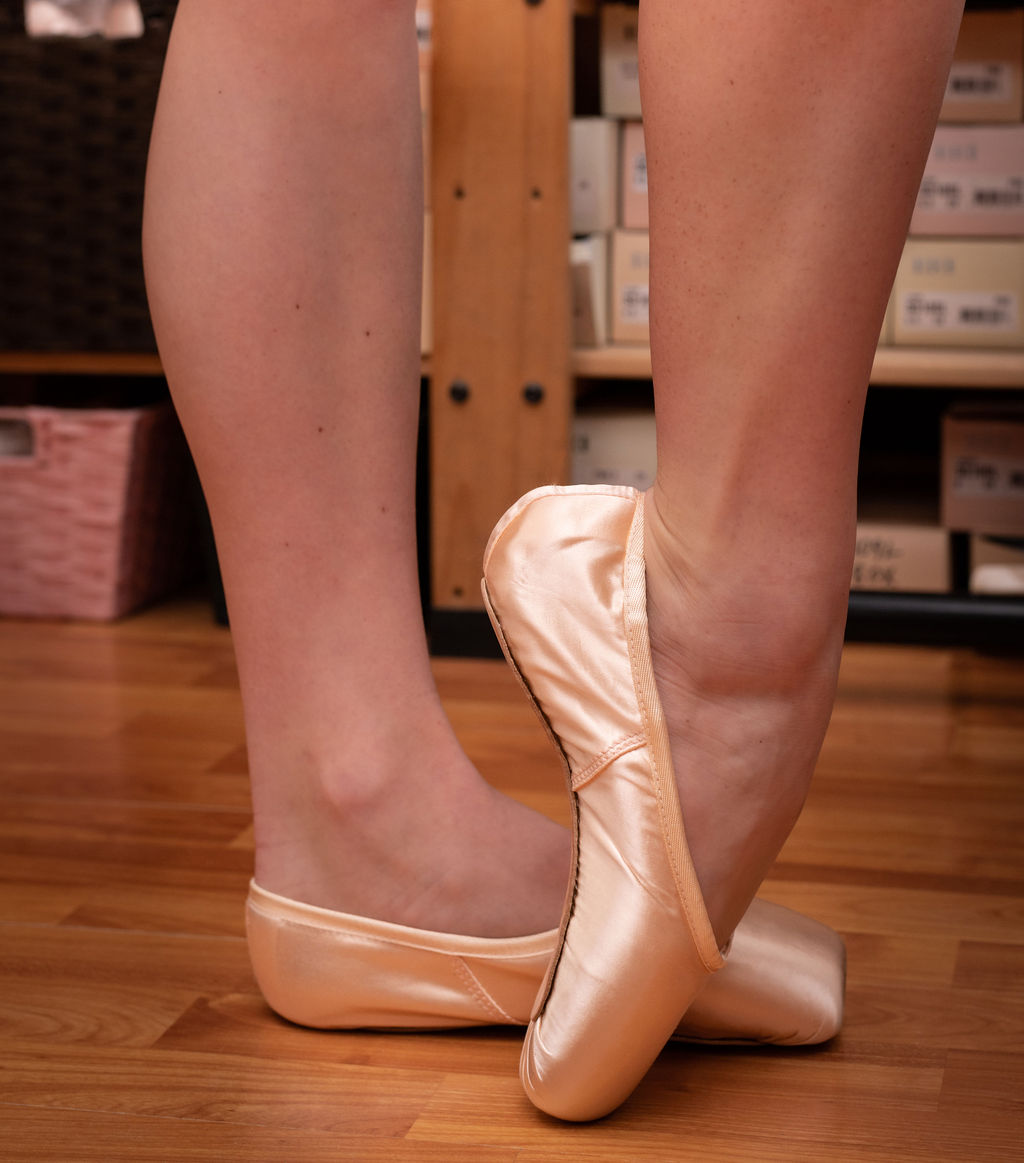 How exciting it is to be told you're ready for Pointe work. Who doesn't love getting fitted for Pointe shoes? Whether you are a first time beginner or on your 50th pair, we at Dancers' Boutique can accommodate all levels. We specialize in fitting Pointe shoes for the Beginner, Advanced Beginner, Intermediate, Advanced and Professional Ballerina.
We will take good care to assess the shape of your feet and toes, and strength of shank is needed or wanted. We have so many styles (37 and counting) that the only difficulty for the Ballerina is choosing only 1 or 2 pair to leave with. We always try on multiple styles to ensure we have exhausted all possibilities. Miss Jenny is an experienced professional fitter, fitting Pointe shoes since 1994.
Padding
If you're a beginner, we carry all the padding and accessories you will ever need. We examine your feet and toes to ensure you have spacers or other padding needs. We will explain how to take care of your shoes, and we offer the mesh bags to hold them. We will gladly show you how to sew and tie your shoes. We will reexamine your feet and toes at each fitting to be certain your padding needs are met. Remember, when it comes to padding, less is more. You will eventually want to reduce padding in the shoes to almost nothing (yes, can you believe it?).
There are several types of padding. The original is lambswool. It is available loose and then molded to the areas in need or it can come in pad form (with or without gel tips.) The pads matte down quickly and need replacing with every pair of Pointe shoes. Lambswool pads are very soft and comfortable in the beginning. However as they matte, the less protection you will get. Lambswool pads also allow sweat to wick away from your feet pushing it thru to the box of the Pointe shoes. This in turn breaks down the Pointe shoes quicker. There are also gel pads. Gel pads have gone thru much innovation in the past 10 years. Gel pads are thinner and less bulky so you can still "feel the floor", while offering superb protection for the toes and knuckles. They almost last forever, only needing replacing if lost (tip: write names inside.) They do get smelly but you can hand wash them. They also keep the moisture away from the box so the Pointe shoes last longer.
To take care of your shoes
Pointe shoes will technically last 8 hours of dance time, meaning that if you put them on first thing in the morning and dance 8 hours straight, they would be "dead" after 8 hours of straight dancing. However as a beginner, they should last you about 6-9 months. Pointe shoes are made of glue, satin and canvas, much like paper mache', sweat and moisture break down the Pointe shoe at rapid pace. (Did you know our feet have over 250,000 sweat glands?)
There are many ways to prolong the life of your shoes. Air circulation is a Pointe shoes' best friend. A mesh bag should be the home for your Pointe shoes and that mesh bag should stay on the outside of your dance bag. Do not leave your toe pads inside the shoes while storing. Also as an intermediate or above dancer, having several pairs of ready sewn and working shoes will allow the shoes to dry in between classes, making them last. Your padding is also a factor. Gel pads prolong the life of the box of the Pointe shoes for sweat can't seep thru to the paste of the shoes. A Pointe shoe glue or shellac (which we carry) can aid in prolonging the shoes but they can only be used once per shoe for the integrity of the box will not allow for more than one usage.
Tips to be prepared for your fitting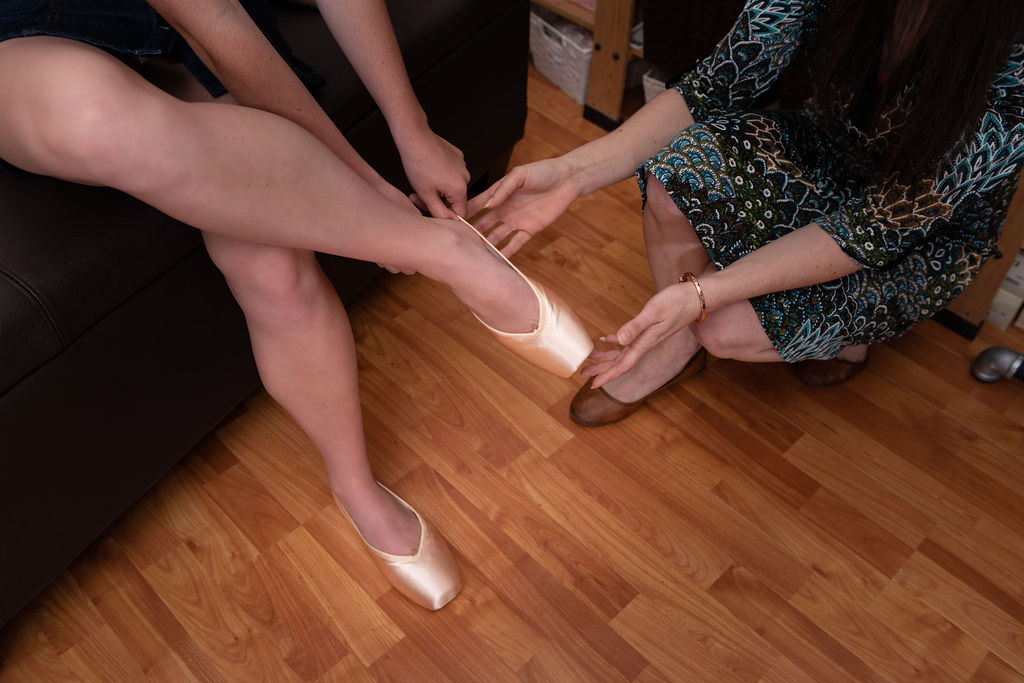 Must have an appointment if you are a Beginner, Advanced Beginner, or Intermediate Dancer.
Fittings generally take about 45 minutes, so please allow enough time.
Be sure to have your toenails trimmed. It is wise to trim them a couple days before.
Bring your previous pairs of Pointe shoes.
Bring any toe padding or accessories you wear in your shoes. If you're a beginner we have everything you need for your toe padding. You must be fit with the padding you will be using.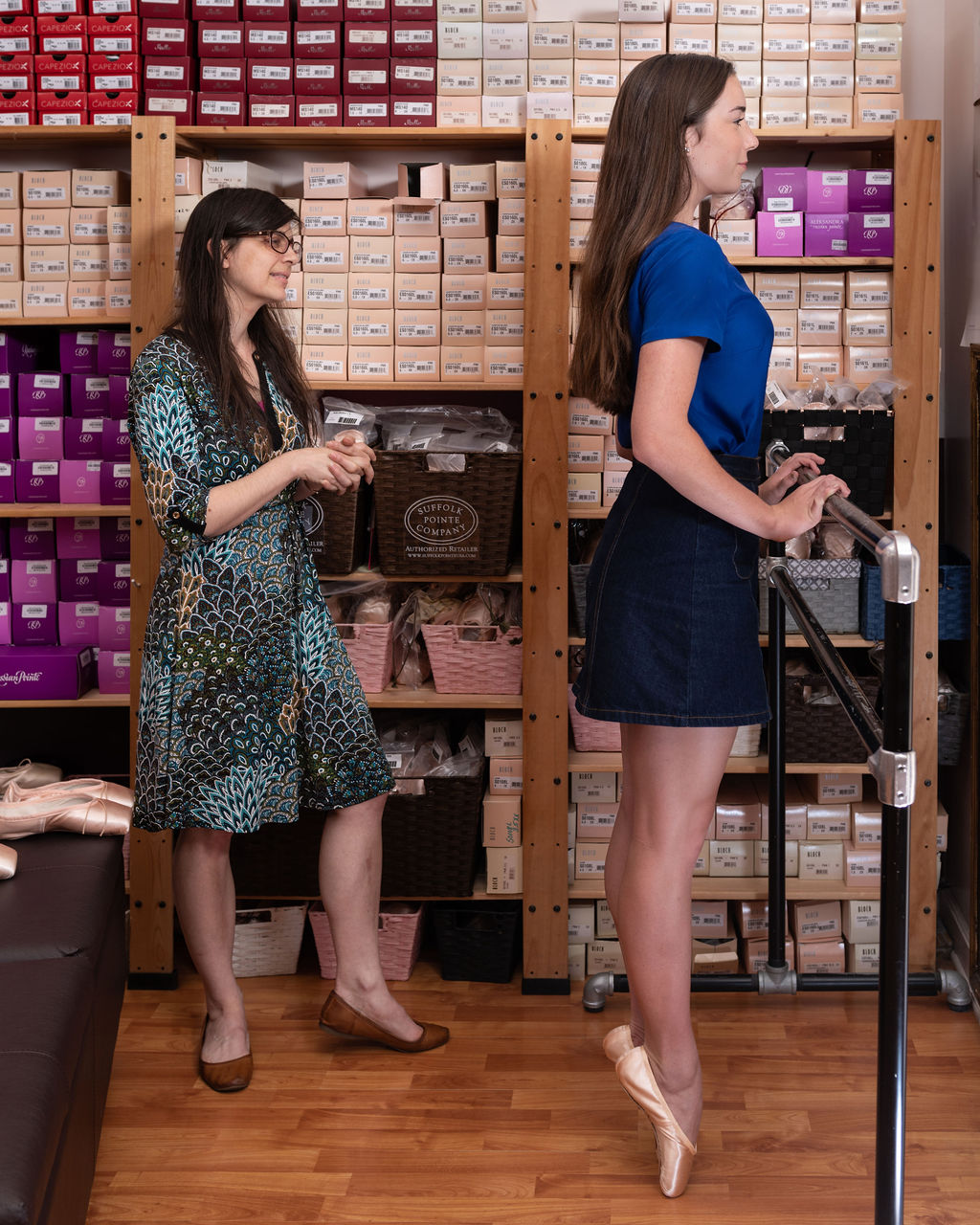 As a girl progresses through Pointe work, she will wear several different kinds of shoes. It would be wise to keep a journal. I tell girls when they have a few years under their belt on Pointe and are purchasing several different pairs that it is time to keep a journal. You bring the journal into class (most teachers love this) and you write down several things:
Any corrections the teacher gives you or anyone else that may pertain to you.
Any combinations you want to remember, work on and enjoy dancing.
Most importantly what Pointe shoes you were wearing that day and what you liked or disliked. What you performed strongly in and not.
Ex: I wore my Academies and my petite allegro was amazing, my feet looked so pointed and arched, and the shanks were flexible enough for the pretty jumps.
Ex: I wore my Balances today and my adagio was incredible. I could balance for an eternity. So when you have a performance coming up, you figure out what kind of piece and pick the right shoes.